2-5 Year Old's Classes
Martial arts, balance and coordination for 2-5 year old's!
On the surface it's a fun-filled martial arts program for 2-5 year old children. Classes are action packed from the time you hear "Little Heroes, form up!" until the high tens at the end of class. However, behind the fun and games our instructors are teaching very your child some very important, life improving skills.
For this age group, classes incorporate motor function, balance, and coordination. We also encourage discipline and respect for elders and find that many children improve confidence, self-esteem, focus and teamwork.
2-5 year old children learn from the people around them. Our instructors are great role models for the kids and frequently use positive feedback for good behaviour.
Under the guidance of their instructors, Little Hero will not only learn to fend off super villains, but also implement values such as healthy eating, helping Mum and Dad around the house, and respect for parents and teachers. Our specialised anti-bullying program also helps kids to stand up, speak with confidence and walk away.
Together with Parents, Physios, Sports Scientists, Occupational Therapists, Batman and Spiderman, we have developed this program to allow your 2-5 year old's to get fit, have fun and (don't tell them) learn some important things that we know will help them get the most out of life.
If you have any questions about our 2-5 year old's martial arts program, or if you'd like to come in and watch or try a class, please contact one of our friendly instructors!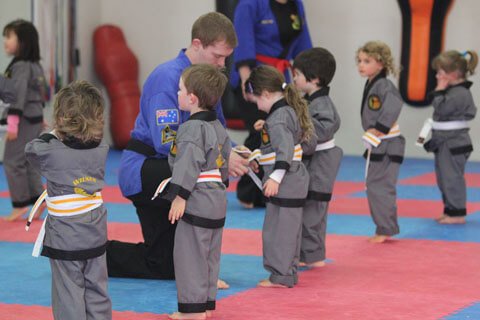 Class Times : 2-5 Year Olds
3.30 – 4.00pm – Monday to Thursday
9.30am Friday
8.30am Saturday