Adults Brazilian Jiu-Jitsu Classes
The best way to explain Brazilian Jiu-Jitsu would simply be human chess. It is a highly effective self defence system which focuses on grappling and ground fighting. The beauty of BJJ isn't realised until you have seen a 60kg female practitioner more than hold their own against a 130kg male practitioner. BJJ is great for core and grip strength, fitness and cardiovascular conditioning. It teaches you how to negate your partner's strength and apply locks and holds to submit your partner.
Patience is imperative when it comes to studying Brazilian Jiu-Jitsu as it takes time to develop your own "style". That in itself is the most amazing part as there are certainly battle hardened techniques and effective theories that you can learn and implement. However, you will find yourself making small adjustments to suit your body type and wrestling style which is what makes it such a great sport.
Our adults classes are taught in a controlled environment, suitable for those aged 17 and above. We have male and female instructors and as long as your focus is to learn and develop to become the best you can be, then you will find a good home with us. We have a solid team of humble, level headed competitors and all understand that the only way to grow and develop is to help others do the same.
Just remember, the most important person on the mat is not you, it is your training partner.
Wilkes Martial Arts and Fitness Academy is proudly affiliated with Grayson West and the Legion 13 family.
Our Academy is located in Myaree, Perth, WA. Call in, email info@wilkesacademy.com.au or phone us today on 9330 3300. You can get started with either our introductory lesson for new beginners or a free trial for more experienced practitioners.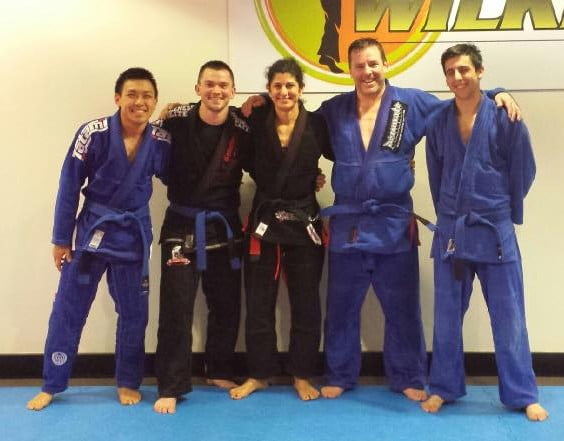 Adults BJJ – Class Times
Mon 11:30am (No gi)
Mon 5:30pm
Tue 7:15pm
Wed 6:15 pm (No gi)
Thurs 11:30am
Thurs 7:15 pm
Fri 5:30pm (No gi)
Sat 9:15am
Uniform is a gi unless otherwise specified. These technical classes are followed by a free roll.
Get your FREE 7 day trial now!