Kids Martial Arts Classes
Wilkes Martial Arts has specially designed kid's classes for different age groups.
Our kids martial arts classes keep your children engaged through energetic warm ups and a range of syllabus techniques. Our belt system promotes goal setting, and we encourage students to keep this positive behaviour in school and home life. If you are looking for a kids martial arts class that is local, clean and professionally run, please contact us for a free trial. We are greatly looking forward to helping your kids in their martial arts journey and help set them up for a bright and successful future!
For kids Brazilian Jiu Jitsu, please go to our kids BJJ page.
Benefits of martial arts for kids:
Self-defence
Confidence
Respect & Discipline
Self-control
Strength, fitness and health
Concentration & Focus
Social skills
Coordination
For more details on our specific kids martial arts classes, click on the age groups below:
2-5yo Kids Martial Arts: Balance, coordination, core strength and loads of fun!
3.30 pm Mon–Thurs | 9.30 am Friday | 8.30 am Saturday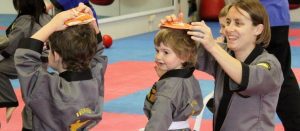 On the surface, it's a fun-filled kids martial arts program for 2-5 year old children. Classes are action packed from the time you hear "Little Heroes, form up!" until the high tens at the end of class. Behind the fun and games, our world class instructor team are teaching your child some very important, life improving skills.
Being our youngest age group, these classes incorporate motor function, balance, and coordination. We also teach discipline and respect, and find that many children improve their confidence, self-esteem, focus and teamwork. Our instructor team are great role models for the kids and use positive feedback for good behaviour. Discipline is handled in a private one on one setting to ensure we are giving them every opportunity to succeed.
Under the guidance of their instructors, your Little Hero will not only learn to fend off super villains, but also implement values such as healthy eating, helping Mum and Dad around the house, and respect for parents and teachers. Our specialised anti-bullying program also helps kids to stand up, speak with confidence and walk away.
Together with Parents, Physios, Sports Scientists, Occupational Therapists, Batman and Superman, we have developed this program to allow your 2-5 year olds to get fit, have fun and (don't tell them) learn some important things that we know will help them get the most out of life. If you have any questions about our 2-5yo kids martial arts program, or if you'd like to come in and watch or try a class, please contact our friendly team today.
6-9yo: Freestyle kids martial arts classes!
4:00 pm Mon-Thurs | 9:00 am Saturday
Wilkes Martial Arts kids classes encourage learning and promote respect and discipline in all areas of your child's life. Our fun and structured teaching methods will improve your child's focus, concentration and confidence, giving them a head start in life and a bright future.
In early life, children are quite impressionable. Being bullied at a young age can have an unfortunate impact on a child's development and even affect their adult life. Training at Wilkes Martial Arts will strengthen your child's mind, body and spirit, enabling them to cope effectively with many of life's challenges.
Through tried and tested expert teaching and positive reinforcement, our world class instructors instil in children a respect for parents, teachers, law and order, as well develop their leadership skills and the ability to say no to peer pressure and potentially unhealthy habits. As a parent, you will see immediate and dramatic changes in your child's everyday approach to life.
Our 6-9yo kids martial arts program is focused on developing your child's mind and body for life. Physically, martial arts training increases core strength, balance, coordination and flexibility. Our classes are designed to improve your child's spatial awareness and has a structured, well-balanced approach towards exercise. More importantly, we develop the association between exercise and health, and make sure your child has fun!
From effectively handling the schoolyard bully to having the courage to have a go at a seemingly difficult task, Wilkes Martial Arts will mentally prepare your child for real life situations.
Your child will also have a new found sense of self-discipline. Most parents notice an improvement within the first few weeks. In addition, we keep in regular contact with your child's teacher to ensure what they are learning is showing at school. Parents absolutely love it when the Job Check Lists are released for belt promotion, as this ensures that training is positively influencing life at home.
10-13yo : Kids Martial Arts Classes
4:45 pm Monday-Thursday | 9:45 am Saturday
Most people do not realise it, but high achievers are not born, they are made. Our 10-13yo kids martial arts program is developed to improve your child's fitness, confidence and self-esteem. The program incorporates teachings that are relevant to the challenges that children face at this age. By joining our family, you can put our tried and tested skills to work for your child.
Our upbeat and exciting classes keep students motivated, and they will benefit from the positive learning environment. The instructors are enthusiastic, approachable and great role models for kids.
Our classes are focused on the participants developing the required skills that really put them in a solid mindset to succeed. Your child will thoroughly enjoy the nature of our classes as well as develop self discipline and focus. We have discovered what we consider to be the perfect balance between fun and discipline to keep young teenagers interested, but also to develop them into upstanding adults.
We aim to equip every single one of our students with the tools to rise to life's challenges and become the best that they can be.
14-17yo : Teens Martial Arts Classes.
5:30 pm – Tuesday and Thursday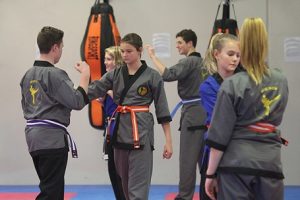 Today's 14-17 year olds are facing more stress than any generations before them. They are growing up faster and facing adult challenges sooner than most of us ever did. Schooling pressure and social acceptance is something that every teen faces. Although this is the reality of the time we live in, something can always be done about the situation you are in.
We aim to instil this in today's teens by providing a safe and positive environment for them to reduce their stress. This is a constructive focus for their energy and keeps their bodies active. Our instructors relate well to the 14-17 year olds class and are well respected by them.
Many people think martial arts is about punching and kicking and hurting people. This is a common misconception and it never ceases to amaze us how many parents still think that martial arts and fighting go hand in hand. Martial Arts is about the exact opposite; not fighting. Now, this seems like a paradox, but don't fall for society's misconception before experiencing our professional martial arts school that strives to make a difference.
We also have the following available for kids: